UNITED EUROPEAN GASTROENTEROLOGY WEEK: VIENNA 2018
October, 20th – 24th 2018
Vienna, Austria


UEG, or United European Gastroenterology, is a professional non-profit organisation combining all the leading European societies concerned with digestive health.
As the voice of gastroenterology in Europe and beyond, UEG aims at promoting equality of opportunity, in particular regarding gender and nationality. In this context, UEG has adopted an equality & diversity statement.
Richen Europe S.r.l. is invited to UEG 2018 (26th Edition), in Wien City Center.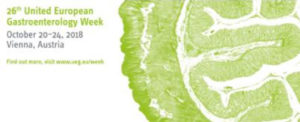 See more details on: www.ueg.eu